CBRs Type B
Type B residual current
Regulation 531.3.3 Tripping on:
50Hz sinusoidal AC
Pulsating DC
Smooth DC
Residual currents ≠ 50 Hz
BSK version suitable for applications where lower sensitivity to high frequency leakage currents is required.
BNK version (300 mA setting) meets the requirements of Regulation 531.3.2
RCD selection and application CBRs accessories Technical data Download this page - pdf
30 mA versions have non-adjustable RCD characteristics.
0.3 < 3 amp versions have adjustable RCD characteristics
- see Regulation 411.4.4 Note2.
Click to view
DFL8 Settings

Ordering reference: see below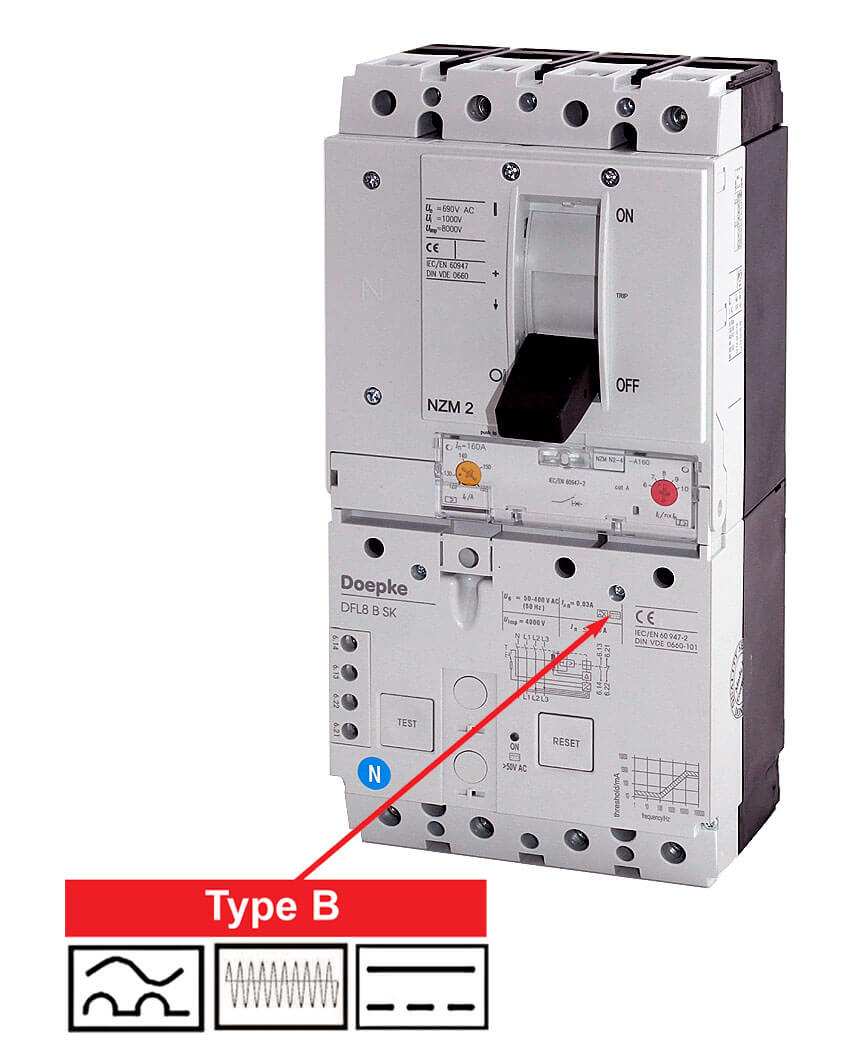 Product Standard: EN60947-2 Appendix B
Approvals: VDE
 Type B SK   30mA   Fixed            400V CBR
           ( Ir = 0.8 -1 x In,   Im= 6 - 10 x In )
Time/Current characteristic: General Non-delay
     Poles          Amps        Sensitivity                 Reference

      4	    100	    30 mA 	 DFL8 -100-4/0.03-B SK
      4	    160	    30 mA          DFL8 -160-4/0.03-B SK
      4	    200	    30 mA 	 DFL8 -200-4/0.03-B SK
      4	    250	    30 mA 	 DFL8 -250-4/0.03-B SK 

 Type B NK   30mA   Fixed            400V CBR
           ( Ir = 0.8 -1 x In,   Im= 6 - 10 x In )
Time/Current characteristic: General Non-delay
     Poles          Amps        Sensitivity                 Reference

      4	    100	    30 mA          DFL8 -100-4/0.03-B NK
      4	    160	    30 mA          DFL8 -160-4/0.03-B NK
      4	    200	    30 mA 	 DFL8 -200-4/0.03-B NK
      4	    250	    30 mA 	 DFL8 -250-4/0.03-B NK

Type B SK  0.3, 0.5, 1A Adustable  400V CBR  
( Ir = 0.8 -1 x In,   Im= 6 - 10 x In )   

Time/Current characteristic: Adjustable time delay
      Poles          Amps               Sensitivity                  Reference
       4	     100	     Adjustable     DFL8 -100-4/X-B SK
       4	     160	     Adjustable     DFL8 -160-4/X-B SK
       4	     200	     Adjustable     DFL8 -200-4/X-B SK
       4	     250	     Adjustable     DFL8 -250-4/X-B SK
Type B NK  0.3, 0.5, 1A Adustable  400V CBR  
( Ir = 0.8 -1 x In,   Im= 6 - 10 x In )   

Time/Current characteristic: Adjustable time delay
      Poles          Amps               Sensitivity                  Reference
       4	     100	     Adjustable     DFL8 -100-4/X-B NK
       4	     160	     Adjustable     DFL8 -160-4/X-B NK
       4	     200	     Adjustable     DFL8 -200-4/X-B NK
       4	     250	     Adjustable     DFL8 -250-4/X-B NK